If I could spend the $505 dollars it would take to purchase the items in my cart, this would be the Criterion Collection favorites I'd own. Thanks to Molly for the idea.
This list is heavily influenced by my father, and is thus filled with films seen especially in the pre-adolescent years during which he thought I needn't have a social life.
Au revoir les enfants (Louis Malle)
Wonderful cinematography that evokes a child's perspective, and one of the best World War II films. Young boys in France at a Catholic school that's harboring a Jewish refugee; a retelling of Malle's own childhood experience.
I saw this first when I was about the age of the boys in the film, and more recently gave a lecture on it to my father's Facism class at Doane College. (Yes, related to the other Doane — Mary Ann, my undergraduate advisor — the college was founded by her grandfather.)
Black Orpheus (Marcel Camus)
Another film I saw quite young. Carnavale in Rio becomes the setting for the myth of Orpheus, and it is a mysterious and frightening rendition.
4 by Agnès Varda (Agnès Varda), mostly for Le bonheur
I took a French film class at UN-L when I was a junior in high school. I was supposed to be taking a French language course, but I argued that there weren't any that fit in with my high school schedule, so I took the film class instead. Basically, we had screenings and then watched more films in class. There was really no discussion. I really liked Varda. Le bonheur was my introduction to feminist film.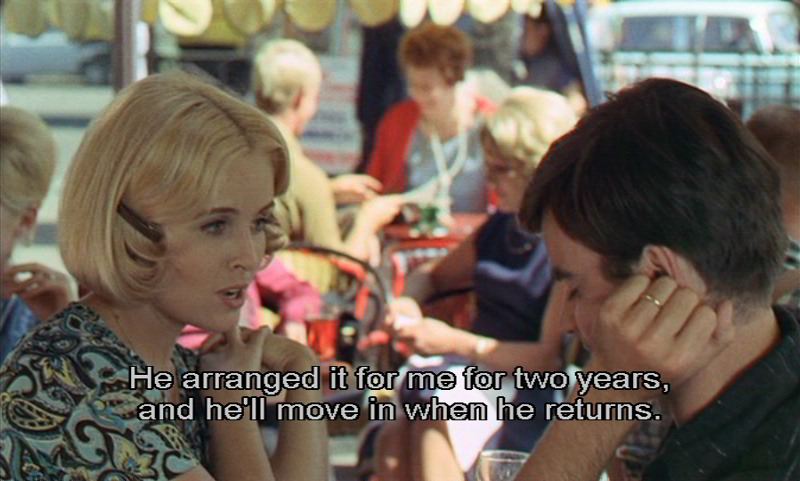 Boudu Saved from Drowning (Jean Renoir)
Another one from the French film class. I just found it funny.
Down by Law (Jim Jarmusch)
I've always liked Jarmusch. This one is so well shot it kind of makes me want to give up trying to shoot something. The film is in black & white, and the production stills from the scene in the canoe with bright green foliage all over make it clear that this is a filmmaker who can really "see" in black & white.
I'll also admit I'm in it for the devastatingly attractive Tom Waits/John Lurie combo.
Eyes Without a Face (Georges Franju)
I first watched this with Brian Faas after we'd both been unable to make it to the screening for our class on the close-up. We were both joking around through most of the film but then blown away by the end. Easily one of the best horror films ever.
Fishing with John (John Lurie)
John Lurie takes other hipster actors on ridiculous fishing adventures, and there's totally goofy voiceover added on.
Grey Gardens (The Maysles Brothers)
There's a good bit of documentary on this list, especially of the embedded journalist sort of variety. That's the vein of work I'd like to go for. I just wonder how they find the money for the film stock. Grey Gardens reinforced every stereotype I had about wealthy Northeasterners.
La haine (Mathieu Kassovitz)
This was also part of my French education, though this time around, it was in the context of a language class. Not the Paris you usually learn about in school.
Häxan (Benjamin Christensen)
Mathias brought this over a few months ago, and we had it playing while working on other things. I love the Nordic peoples. This is a bizzaro-documentary history of witchcraft. We may have listened to Witchcraft while watching it, but I don't really know for sure.
Hoop Dreams (Steve James, Frederick Marx & Peter)

This was one of the first documentaries I saw where I remember thinking about it being made. Another excellent example of the embedded sort of filmmaking — it includes so much about urbanism, education, and Chicago, too.
If…. (Lindsay Anderson)
My father showed this one to me when I was probably 12 or 13 years old. Through this, Au revoir les enfants, and other films, he was trying to explain to me what his school experience as a child in Germany had been like. I think. Well, without the guns.

Also plenty of beautiful young man fodder for the imagination of a teenage girl.
La Jetée/Sans Soleil (Chris Marker)
Mathias and I watched Sans Soleil several times. It usually put me to sleep. I love the Martian children.

My Life as a Dog (Lasse Hallström)
This is another film I watched over and over as a kid. I love its simple depiction of formative sexuality, its mild humor, and its young Swedish narrator.

Pickpocket (Robert Bresson)
I mostly like this film because it makes pickpocketing and lock picking look so easy. That makes it an effective film.
The Tin Drum (Volker Schlöndorff)
There are tons of Fassbinder films in the Criterion Collection, and for the sake of German pride, I probably should have included one, maybe Berlin Alexanderplatz, which my parents watched in shifts while trading off taking care of my infant self. But I'm going to skip Fassbinder altogether for The Tin Drum (Die Blechtrommel), the film that was constantly referenced in my house when I was growing up. Whenever I'd be obnoxious or whiny, my parents would call me Oskarschen.

This slid nicely into suggesting I was trying for an Oscar.